About Our Club
We are a local friendly cycling club, formed in 2014 by two friends with a love of cycling. The club quickly grew in excess of 100 cyclists in the first year and now boasts almost 200 members – and growing!
As a club, we share a love of cycling, but we also have a great social aspect including a Christmas party and a summer barbecue. When pub's and barbecue's were put on hold due to the pandemic, our members kept in touch with group chats and zoom quizzes.
Check us out on social media!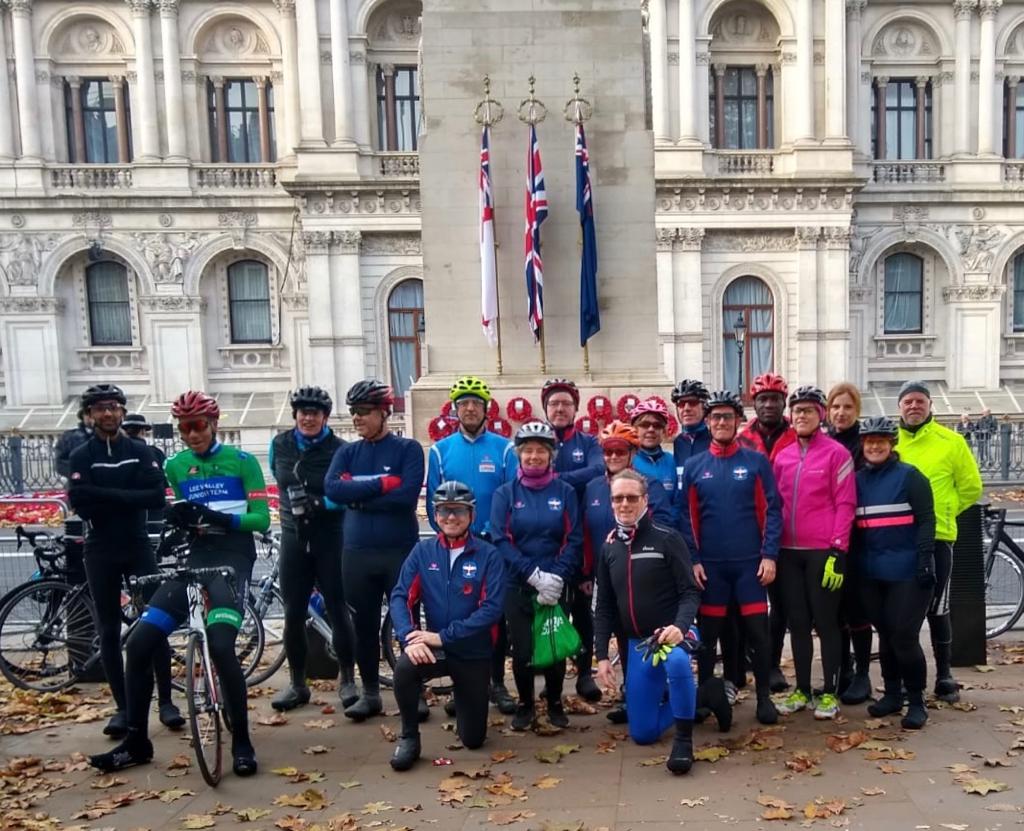 Our annual Remembrance Day ride to the cenotaph
Our Rides
The club puts on a number of rides each week, covering a variety of local routes.
Most of our miles are on the quiet back roads of the beautiful Essex countryside, avoiding busy main roads as much as possible. There are groups catering to riders of all paces and abilities and more often than not our cyclists can be found enjoying a post-ride coffee and cake at a local coffee shop.
Our Events & Activities
The club encourages members to have a go at challenges, such as our own HCC time trials and hill climb events. Our Sportive calendar helps members organise groups to ride together in popular events such as the London to Southend, The Prudential Ride 100, Etape London. Or further afield, The Kentish Killer, The Chiltern 100, The Dragon Ride in Wales and the Etape du Tour in France – many feature regularly amongst our members.
There have been several special events organised by the club or our members ….check out these highlights:
Hornchurch to Paris – raising thousands of pounds for the club's chosen charity.
London to Paris in 24 hours
Everesting in Essex – A 48 hour non-stop relay to climb twice the height of Everest
Alps Trip – an annual event for several riders
….and off the road;
Winter spin classes
Bike Maintenance workshops
First Aid courses
Rider skills & training sessions at local race circuits
Talk from a local pro rider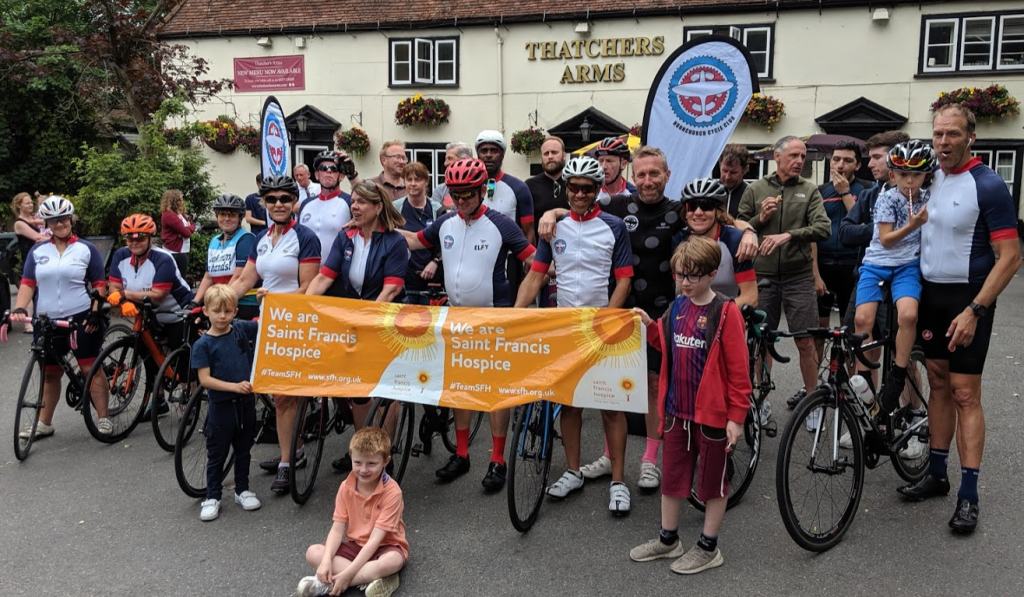 Everesting in Essex - a 48-hour non-stop relay event raising money for Saint Francis Hospice
Social
We are a very sociable club, with cyclists meeting weekly to attend a quiz night at a local pub, as well as having regular club socials. We also arrange a summer family day and Christmas party.
The club utilises social media and instant messaging to advertise rides, both scheduled and ad-hoc, and for those wishing to commute together into London.
Joining
Feel free to come along on two free trial rides before committing. You can read more about our club rides here.
Ready to join us? Use the link below to sign up via our club page at British Cycling;